Are You Suffering From A Preventable Back Injury?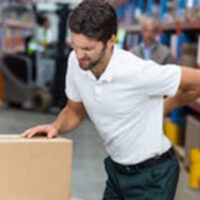 The number two reason that people miss work in America?  Back injuries!  Only the common cold keeps more workers at home.  Why are back injuries such a serious problem in our country?  One wonders if perhaps simple interventions in the workplace could mitigate these injuries.  If you believe your employer's negligence is the root cause of your injury, you may be able to receive compensation for your pain and suffering beyond what workers' compensation provides.  Only a knowledgeable La Plata & Waldorf personal injury attorney can help you to unravel the possibilities.
Responsibility of Employers 
You have the right to a safe working environment.  Sure, accidents happen that really cannot be blamed on anyone.  But when employers fail to ensure that precautions are taken to secure workplace safety, they are ultimately responsible for injuries that occur.  Since almost one- fourth of all workplace injuries are connected to lumbar pain, it makes sense that employers pay particular attention to steps they can take to prevent injuries. Unfortunately, many employers fail to address the most basic safety measures:
Training in proper lifting techniques for employees who are tasked with carrying/moving heavy items;
Strength testing employees to ensure they do not exceed their lifting capacity;
Contemplating a workers age and physical stamina while determining work assignments;
Offering periodic stretching, strength and conditioning programs to maintain back health;
Providing essential safety equipment such as back braces and other necessary gear;
Reducing the weight and/or size of items to be lifted or moved;
Requiring pneumatic lifts and other machinery to deal with particularly obtuse objects that must be moved;
Minimizing the height of items on pallets and shelves to reduce workers' need to twist or carry heavy items above their shoulders. 
What Causes Back Injuries? 
Understanding the risks of particular behaviors that can lead to back pain is important for all of us. Some common workplace events that lead to problems include:
Twisting while lifting heavy items;
Strain related to heavy lifting and/or moving weighty objects;
Muscle fatigue due to the repetition of particular movements;
Attempting to carry heavy objects using primarily arm strength, resulting in back pressure.
What Does Research Tell Us? 
This isn't rocket science.  Integrative reviews of research related to workplace back injuries unanimously conclude that interventions do make a difference. When employers make responsible choices, like providing back schools, offering safety equipment, and reminding employees of safety protocols, there is a reduction in back injuries.  Period.
It's a Decision 
Employers make decisions related to the workplace every day.  When they fail to provide what employees need, their negligence can result in workplace injuries.  They have the opportunity to make good decisions for their employees.  When they choose otherwise, they may be held liable for damages.  To discuss the prospects in your situation, contact the experienced La Plata & Waldorf personal injury attorneys at The Law Office of Hammad S. Matin, P.A.
Resource:
journals.sagepub.com/doi/abs/10.1177/216507999604400406