Intersections Are Dangerous Places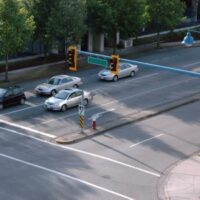 Some of the footage is astounding:  cars crumple and grind, tires squeal.  And, in the most heinous cases, people are injured or killed.  Traffic cams record ghastly crashes, along with plenty of near misses involving multiple vehicles, pedestrians, and cyclists in Maryland. If you or a loved one are injured in a serious accident involving a vehicle that failed to adhere to Maryland traffic laws, it would be wise to consult an aggressive personal injury attorney.
Maryland Statute
Drivers barrel through red lights or crawl past stop signs all too frequently.  Unfortunately, many drivers fail to take precautions at intersections and around crosswalks. But the laws in Maryland are clear:
Drivers must stop completely if a pedestrian is on their half of the road or approaching from the other side of the road in an adjacent lane. Failure to do so is punishable by a fine of $80-$500.  That same penalty applies to drivers who attempt to pass a vehicle that is stopped for a pedestrian.
Even when a driver has the green light, they must stop for pedestrians who are in a crosswalk or face a fine of $90-$500.
When drivers come upon a red light or arrow, they must come to a complete stop before entering the crosswalk or at the stop line or face a $140-$500 fine. In the event a pedestrian is in the crosswalk, drivers may not turn on a red light; it could result in a $90-$500 fine.
Drivers are expected to make every attempt to avoid collisions involving pedestrians, including honking the horn, particularly if a pedestrian seems incapacitated or disabled. Drivers who fail to exercise due caution could be stuck paying fines from $70-$500.
When "special dangers" exist that put pedestrians at particular risk, such as construction or inclement weather, for example, drivers must reduce their speed appropriately, or face fines of $90-$500.
Pedestrian Injuries and Deaths 
More than one in ten traffic fatalities involve pedestrians. The truth is that thousands of pedestrians are killed and tens of thousands injured every year. While pedestrian inattention and physical environment are certainly factors in some collisions, drivers who do not operate their vehicles in a safe manner are no doubt at fault in a large number of cases.
Intersection Vehicle Crashes 
Crash injuries can range from minor to severe, but collisions that occur in intersections can be extremely serious.  Hospitals rate injury severity, and anything over a 15 rating is considered major trauma.  The average score for injury victims in automobile crashes: 14.6.  Well over one-third of victims experience head trauma, and two-thirds have chest injuries.  Some injuries are more common than others, depending on the type of collision:
T-Bones: Common intersection crash types, side-on crashes can be particularly serious, even at speeds that are relatively slow.  Individuals on the side of the impact are vulnerable to chest and lower extremity injuries. The pelvis and abdomen are at serious risk. The human body is simply no match for door panels that cave in with extreme force.   For individuals on the non-impact side of the vehicle, head and chest injuries are most common.
Head-on Collisions: Chest and lower-limb injuries are common to individuals who are using seat belts.  For those who are not belted, studies indicate that the damage suffered can be much more severe, including facial damage, and serious damage to the chest, pelvis, legs and feet.
When You are Injured 
If you or a loved one experiences serious injuries or death in an intersection due to the recklessness or negligence of a driver, you deserve justice.  Whether the incident involved running a red light or some other traffic violation, the experienced La Plata and Waldorf personal injury lawyers at The Law Office of Hammad S. Matin, P.A. will investigate and fight on your behalf.  Contact us today for a confidential consultation.
Resource:
wbaltv.com/article/howard-county-police-video-red-light-runners-dangerous-problem/30533499