With Thousands Being Arrested at Protests, It Is Imperative That You Know Your Rights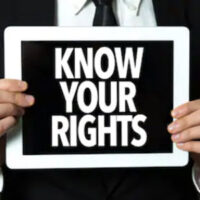 With protests taking place around the country, the issue of how, exactly, one interacts with police, and how this can affect you as a potential criminal defendant has rarely been as relevant as it is right now. Whether you are exercising your First Amendment right to assemble and express yourself through protest, being pulled over in a traffic stop and potentially subject to search and seizure (as subject to certain rights under the Fourth Amendment), and/or invoking your right to remain silent, etc., one of the main benefits of working with an experienced criminal defense attorney is being educated about your rights and how to exercise and preserve them in case you are subject to criminal charges.
According to reports, more than 10,000 people have been arrested in recent days at protests for charges ranging from unlawful assembly, to rioting, loitering, disorderly conduct, violations of curfew or emergency rules burglary of structures, resisting arrest, assault on a police officer, looting, and more, including here in Maryland, and there have been a number of legally questionable nonviolent protesters who were simply exercising their civil rights. We, as citizens, have the constitutionally-protected rights (such as the right to assemble) as well as state rights.
Hurdles to Justice in Maryland: The Officer Bill of Rights
Police Commissioners themselves have pointed out that, had George Floyd's death occurred in Maryland, they would have been helpless to even fire the officers involved due to Maryland's Law Enforcement Officer Bill of Rights, much less hold them criminally accountable, which leaves police oversight boards powerless to investigate potential police misconduct without a complaint from a citizen. Even with a complaint, officers cannot be compelled to testify and commissioners do not have to follow board findings. Police misconduct records are also completely shielded from the public, and civil review boards only have the power to investigate conduct involving abusive language, excessive force, false arrest, false imprisonment, and harassment. As a result, many would comment that the police confidently "police themselves," and more innocent people are arrested because there is no real accountability.
The Lasting Effects of Being Arrested
Even for those who aren't charged, just being arrested and spending time in jail can have its repercussions. In addition to bail, booking fees, court fees, and other costs, there are lingering effects, such as being unable to communicate with employers and losing one's job, police refusing to return crucial items to those who are released, such as ID, wallets, phone, and house keys (instead, keeping them as evidence), leaving some out on the streets and without the ability to get help from friends and family.  One protest can sometimes cost an individual $10,000 or more just to ensure that they do not have a permanent record, and until cases are resolved, they show up as pending on criminal background checks.
Know Your Rights
If you are pulled over, approached, etc.:
Stay calm, do not run, do not resist
Know that you do not have to consent to a search of yourself or your belongings
Ask early on if you are free to leave. If the officer says yes, calmly walk away
You have the right to remain silent and refuse to answer questions. Know that anything you say can be used against you Inform the police officer(s) that you are exercising your right to remain silent verbally
In Maryland, the law allows police officers to approach you in a public place to request information/ID. You do not need to submit to questioning, and are free to walk away
It is legal to film the police in the performance of their duties.  They cannot legally stop you from filming them as long as you are not interfering with their operations.
Know the "Process" in Maryland
In Maryland, if someone is arrested and not released, they are brought to jail, whereby the Commissioner sets the bail, and if it cannot be posted, they receive a bail review hearing before the judge within 24 hours or the next business day. The Sixth Amendment guarantees your right to a speedy trial, which essentially means within a reasonable time after arrest, where, in Maryland, arraignment has to occur within 72 hours.
Contact La Plata & Waldorf, Maryland Criminal Defense
La Plata & Waldorf criminal defense lawyer Hammad S. Matin, P.A. has extensive experience defending those who are victims of illegal activities at the hands of the police. Contact our office in to schedule a consultation so that we can discuss your rights and next steps.
Resources:
marketplace.org/2020/06/10/what-it-can-cost-to-get-arrested-at-a-protest/
baltimoresun.com/news/crime/bs-md-ci-cr-police-reforms-20200612-cy63mihhjndvjparmkmoazil3m-story.html
https://www.matinlaw.com/what-should-i-do-if-the-police-pull-me-over/