Accidents With Firearms And Kids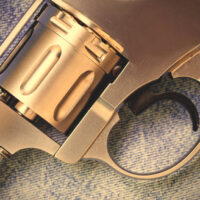 Here's a startling statistic: more children die because of guns than because of cancer in the United States.  Nearly 20 children under the age of 12 have died as of January 17, 2023, along with nearly 80 more youth aged 12-17. The injuries to kids in these groups tops 200. Throughout America, the number of injuries and deaths for children between five and 14 years of age almost doubled in 2020– and the upsurge in gun deaths continued through 2021, 2022, and now 2023.
Parents Need to Know… 
Parents who own firearms convince themselves that their kids are not at risk of injury or death from those weapons, believing any number of myths to alleviate the worry of such a possibility. That leads many parents to neglect the proper storage & lock up of these dangerous weapons. How do they justify leaving weapons within reach?
Myth
Fact
We've taught our children to respect guns, and they know better than to touch them.
According to research, most children

will handle a gun if they come across one.

Our kids know the difference between real and toy weapons, and the real ones are out of reach in our house.
In 16 percent of accidental shooting cases involving kids under 13 real guns were mistaken for toys
Our kids don't even know how to shoot, or don't have the strength to pull the trigger.
Research indicates that kids generally have the strength to pull a trigger by the age of 3 years old, and they discover how to do it while playing with the weapon.
Our children don't know where our

weapons are stored.

.

75 percent of kids who live in houses where guns are kept know exactly where those guns are kept, despite parents' belief otherwise.
In our house there are no real guns—just paintball guns, pellet guns, and BB guns.
These "toys" actually cause over 20,000 serious injuries annually—and the eye is the most vulnerable body part.
Children Experience Injuries and Deaths Due to Accidents 
Gun purchases have surged in recent years, and there has been a corresponding rise in accidents related to firearms. Incidents involving children have been hair-raising with about 1,300 youngsters under the age of 18 being killed every year in shooting accidents. Research shows that roughly one in three families with children have a firearm in their home, which translates to over 22 million kids living in homes with at least one gun. The astounding reality is that across this country shooting accidents kill boys at six times the rate of girls. Tragically, boys who are the victims of accidental shootings are most frequently shot by a friend or relative, and, sadly, that relative is a brother in the majority of cases. Sadly, about 40 percent of unintentional shootings among youth aged 11-14 occur in the home of a friend—meaning even if you don't have guns in your own home, your kids are at risk.
 Following a Gun Accident 
Even though you, personally, may not have guns in your home, your children may be at risk of experiencing a gun-related injury or fatality when they are in their friends' homes.  If that occurs, it will undoubtedly be crushing to you and your family. This kind of devastation could leave you seeking legal action to address medical costs, funeral costs, pain and suffering, and more. The compassionate La Plata personal injury attorneys at The Law Office of Hammad S. Matin, P.A. are on your side and they will fight for the compensation you deserve. Nothing will ever obliterate your suffering, but we can definitely help with financial compensation to address the financial costs.  Schedule a confidential consultation in our La Plata & Waldorf office today.
Source:
wfla.com/news/national/more-florida-kids-died-to-gun-violence-at-start-of-2021/