Corrections Officer Pleads Guilty to Attempted Murder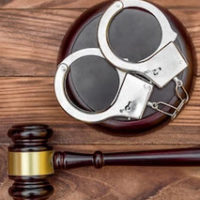 A former corrections officer has pled guilty to charges of attempted murder after he brutally attacked his wife. Armando Rodriguez, 46, entered his plea at the Charles County attorney's office. Prosecutors report that his wife was sleeping when Rodriguez stabbed and hit his wife after he handcuffed her to a railing in the couple's basement. He also put a bag over her head and belt around her neck to suffocate her, but she didn't die. Eventually Rodriguez called 911 and reported a domestic situation.
What is Attempted Murder? 
Attempted murder is the unsuccessful, incomplete attempt to kill another person. It is a serious criminal offense and can result in significant prison time. In most jurisdictions, attempted murder consists of two elements – the offender attempted to kill another person and the offender's act was meant to kill the other person.
Just like there are levels of charges for murder, there are also levels of attempted murder in the state of Maryland. These charges include first degree and second degree attempted murder and are dependent on the severity of the offense.
First Degree Attempted Murder – Attempted murder in the first degree occurs when a person plans and takes action in an effort to kill someone. It is a felony under Maryland law and can result in a life sentence in prison.
Second Degree Attempted Murder – Attempted murder in the second degree happens when a person tries to kill another person without any previous planning. The action is spontaneous, distinguishing it from first degree attempted murder. This is also a felony offense and can result in a prison sentence up to 30 years.
Direction Action and Intent to Kill 
Simply planning to kill someone is not enough to be considered attempted murder. The person must actually act on their plans. This direct act could be using a weapon against someone or soliciting and paying someone to kill another person. Other direct acts that could imply intent to murder include luring or stalking someone to a certain location where murder could take place or buying all the materials necessary to commit murder.
Just as planning to kill someone isn't enough to constitute attempted murder, neither is bodily harm or disfigurement. There must be proof that the person inflicting the harm intended to kill the person. For example, stabbing a person in the arm doesn't show intent to kill, but stabbing them in the chest could be. In some situations, there may not be specific intent to actually kill the victim either. For example, firing a gun in a residence and injuring a person that isn't the intended victim will still meet the requirements of intent to kill because a firearm was fired into an occupied building.
Contact an Experienced Criminal Defense Attorney 
If you are facing charges for attempted murder, if convicted you could face serious penalties. This means it is imperative you have an experienced La Plata and Waldorf criminal defense attorney on your side. The attorneys at The Law Office of Hammad S. Matin, P.A. will work to prepare the best possible defense strategy for your situation and ensure your rights are protected. Contact us today to schedule a consultation.
Resource:
baltimoresun.com/news/maryland/crime/bs-md-maryland-woman-survives-brutal-attack-20190417-story.html
https://www.matinlaw.com/accidental-ways-we-incriminate-ourselves/