Dealing With Road Rage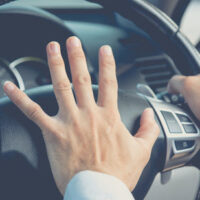 About 80 percent of drivers report that they've experienced frustration, and even anger, behind the wheel.  If you're one of them, you've likely at least considered flipping off another driver, yelling at them, or employing tactics on the road to annoy other motorists.  But did you know that in the course of a given year, road rage is responsible for roughly 30 fatalities and over 1,800 injuries on the road?
For Example… 
Maryland has no shortage of enraged drivers, some of whom take their frustrations to the extreme:
One driver on I-270 in Frederick County shot multiple rounds at another motorist driving next to him on the highway, resulting in injuries and hospitalization at Suburban Hospital in January 2022.
In a similar incident in Temple Hills, a driver was shot and killed in a road rage incident on Christmas Eve, 2021.
A third shooting incident took place in Prince George's County the summer of 2021, when a family traveling in their vehicle were shot at multiple times. Fortunately, no injuries occurred, although the family was terrified.
Understanding Road Rage 
Road rage manifests in many ways besides shootings, of course.  More often than not, aggressive driving that includes screaming, honking, tailgating, and rude gestures are the ways frustrated drivers show their anger—and these behaviors correlate with more than half of all fatal collisions!  More life-threatening behaviors include cutting other drivers off, preventing others from merging, running red lights, racing, forcing oneself into a line of vehicles, and erratic driving intended to block other drivers. The blatant use of weapons is more rare, but certainly the most frightening and potentially dangerous example of road rage.
How to Respond to Aggressive Driving 
Although it may be tempting to respond in kind to aggressive drivers, you are much better off trying to ignore them and distance yourself from them.  More often than not, the incident will pass and there will be no real consequences.  Your courtesy on the road could actually have a positive effect on other motorists, who appreciate your willingness to let other drivers merge , your willingness to be patient, and the friendly smile you offer in congested areas. Sometimes, however, belligerent drivers simply will not let go of you or their anger.  That's the time to call #77  or 911 to get help from law enforcement. Remain calm and do not become aggressive yourself, as that could lead to a dangerous escalation.
When Road Rage Causes Harm 
If you or a loved one has suffered serious consequences of another motorist's road rage, it may be difficult to move forward without anger and fear.  But you are not powerless.  Although no amount of money can repair the physical or emotional wounds you may have suffered, the experienced and dedicated La Plata & Waldorf personal injury attorneys at the Law Office of Hammad S. Matin, P.A., understand that remuneration to address your medical bills and more can lighten your load.  To discuss your case, schedule a confidential consultation in our La Plata office today.
Resource:
wusa9.com/article/news/local/maryland/road-rage-shooting-on-i-270-in-frederick-county/65-2872f62d-2706-4e26-a7c1-14fd2e8a4f92