Drowning Deaths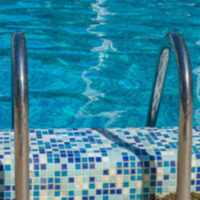 What do you think is the number one cause of death for kids aged one to four years old?  Would it surprise you to learn that it is drowning? Youngsters in this age range and a few years older die far too often in backyard pools, rivers, and lakes, often with adults just feet away. It is one of the most preventable causes of death, impacting some of the most vulnerable people–children.
Facts Worth Knowing 
When parents don't know how to swim, chances are their kids won't learn either.  Nearly 90 percent of kids who can't swim, in fact, come from families where the skill was not a priority to parents, who also did not swim. Breaking that cycle seems to be one key way to address the crisis in the United States.  But there are other problems exacerbating the horrendous death rates we see associated with drowning:
Recreation departments are facing huge budget cuts, limiting pool hours and resources;
A shortage of lifeguards across the nation has impacted pool safety;
Parent/adult distractions have made supervision less strict around water;
Kids swimming in multi-family pools—like in apartment complexes—are nearly 30 times more likely to die than kids swimming in single family backyard pools;
Increasing natural disasters make water more dangerous.
A Racial Component 
Roughly 1,000 child drowning occur annually in this country, ang Black children are significantly more prone to lose their lives in swimming pools than are white children, to the tune of about 2.6 times more likely when aged five to nine, and 3.6 times more likely when aged 10-14. Other children of color also die at greater rates than white children do. Why the inequity?
Theory Behind Racial Disparity 
Some say that swim clubs that popped up after WWII in suburban enclaves lead to private swim lessons for white kids, while minority children were left with run-down public pools running on meager budgets that have never really recovered. And with negative connotations that many Black adults have associated with Jim Crow segregation in pools years ago, teaching kids to swim has not been a priority.
Addressing Child Drownings 
The U.S. National Water Safety Action Plan lists 99 steps toward reversing the needless deaths of children, including:
Accumulating better data in order to address issues related to child drownings;
Mandating barriers around all pools;
Increasing the use of life jackets around recreational bodies of water;
Promoting supervision and lifeguards around all bodies of water;
Developing more water competency for all groups of children.
After a Child Drowning
 When children are injured or die due to the neglect or recklessness of an adult who should have been supervising, been providing safety equipment, or been keeping a pool locked up, it can be nearly impossible to recover from the anguish.  The La Plata & Waldorf personal injury attorneys at The Law Office of Hammad S. Matin, P.A. know that you are suffering, and can help to pursue damages to address medical bills, funeral costs, future wages and more. Schedule a confidential consultation with our empathetic attorneys today.
Sources:
watersafetyusa.org/uploads/7/0/6/0/70608285/usnwsap_2023.pdf
nytimes.com/2023/07/08/health/children-drowning-deaths.html?smid=nytcore-ios-share&referringSource=articleShare