Hazards Abound In Construction Zones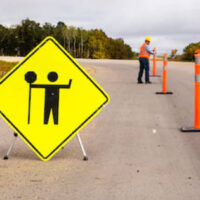 There are a lot of moving parts in a construction zone, requiring workers to be aware of potential hazards at all times.  Unfortunately, injuries and deaths are on the rise across the industry.  If you have been the victim of a serious construction site accident, it could be beneficial to contact a local personal injury attorney.
Accident Reduction 
In many cases, companies could make a few simple changes that would make an incredible difference at the worksite when it comes to safety. A few basic steps could result in a significant reduction in workplace accidents, if only companies would choose to enact them!  Failure to do so has potential liability for the company.
1-Expect Safe Procedures:  Managers need to be on site, enforcing well-publicized safety procedures and monitoring the behavior and attitudes of employees toward safety.  Adhering to OSHA regulations makes sense.  Be sure employees have the right mind set when speed is in competition with safety.
 2-Rely on Technology:  Most people understand that technology can be used to increase productivity, improve safety, and solidify communications.  It can be connected to alarm systems when hazards arise, can enhance messaging in order to reduce miscommunication, and detect potential problems before they become problems.  Sure, the initial investment may be a bit painful, but the savings in terms of personal health and safety could be exponential.
3-Track and Report:  Create a reporting system that employees trust so that anyone with safety concerns feels confident that issues reported on will be promptly and effectively addressed, with no concerns of retribution.  Safety should never be a taboo topic; as it is, nine in ten employees express discomfort at the notion of reporting safety issues.  At issue is the underlying rear of reprisals for complaining.
Common Safety Issues on Construction Sites
 There are countless hazards on a job site, many of which could be addressed quickly and easily, if only supervisors chose be firm about them:
Employees failing to wear proper safety gear such as hard hats, steel-toed boots, protective eyewear, and gloves;
Workers taking shortcuts and neglecting to utilize protective equipment like harnesses, safety lines, and blade protectors;
Companies failing to regularly inspect and maintain equipment;
Companies failing to provide proper training and supervision, resulting in mistakes on the job;
Teams focusing on deadlines instead of safety;
Hazards being left unmarked;
Relying on subpar materials that lack approval for the duration or weight of the job;
Improperly installing shoring, fencing, or scaffolding.
Post-Accident 
Project managers must necessarily stay on top of multiple issues on a construction site; otherwise, accidents are bound to happen.  If you've been injured on a construction site due to faulty safety protocols or a lax safety environment, you may be facing current and future underemployment, hand in hand with mounting medical bills.  Now is the time to let the experienced La Plata & Waldorf personal injury lawyers at The Law Office of Hammad S. Matin, P.A. fight for you.  Contact us today for a confidential consultation.