Hit And Run Accidents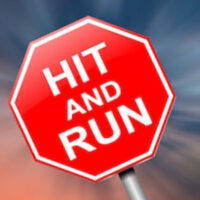 No accident is a good thing, but perhaps the most infuriating kinds of accidents involve hit and run drivers who cause property damage, personal injury, and sometimes even death, only to scurry away without accepting responsibility or offering assistance.  If you have been the victim of a hit and run accident that has resulted in serious injury or death, it may be a good idea to make contact with an experienced personal injury attorney right away.
Statistics Tell the Story 
The nauseating truth is, fatalities related to hit and run incidents have been on the rise in recent years according to  research on the topic.   What we know is quite disturbing:
Somewhere in the country, a hit and run collision occurs every single minute;
Over 700,000 of these accidents occur across the nation every year;
More than one of every ten crashes involves a hit and run driver;
Six percent of all injuries—over 100,000 annually—are related to hit and run accidents;
Deaths related to hit and run incidents have increased by over 60 percent in less than a decade;
About seven in ten fatalities in hit and run incidents involve bicyclists or pedestrians;
Nearly six percent of fatalities on the road are related to hit and run incidents;
A high portion of hit and run drivers are likely under the influence of alcohol or drugs;
Maryland ranks 19th in the nation for the number of hit and run accidents that occur annually.
Who are These Drivers? 
Inarguably, characteristics of hit-and-run drivers is difficult to pin down because oftentimes these drivers are never identified.  If there is a "typical" driver, here's what he looks like according to profiling:
Males;
Individuals with a previous DWI;
Persons with a low socio-economic status;
Men who do have a positive blood-alcohol level when they are eventually arrested.
Why Do They Drive Away? 
Identifying a driver's motivation for fleeing the scene differs with each circumstance.  In some cases, they may fear problems associated with a criminal record.  Others may be nervous about having drugs or alcohol in their system.  For some, it's simply the confidence that they can get away with it, and they see no reason to hang around for the complications of police interactions.  The root of the problem in all cases, according to some sociologists, is a lack of moral conscience, giving the driver the ability to drive away without looking back, without any concern for the victims of their crime.
What Recourse Do You Have? 
If you or a loved one has been victimized by a hit and run driver, you deserve a legal team that is willing to do the footwork to investigate the incident in an effort to bring the culprit to justice. Chances are you are entitled to damages to address your suffering and loss.  At The Law Office of Hammad S. Matin, P.A., our La Plata personal injury attorneys will leave no stone unturned in your defense.  Schedule a confidential consultation in our La Plata/Waldorf office today.