Intersection Dangers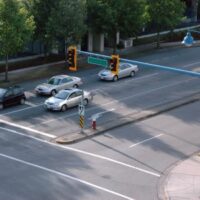 George Bernard Thomas Jr.'s life was cut short when a dramatic collision sent his vehicle plummeting over the guardrails on U.S. 301, landing unceremoniously at the bottom of a ditch. He was pronounced dead at the scene.  Thomas had been navigating a left turn in an intersection when another vehicle smashed into the driver's side of his car. Why that driver failed to yield is anybody's guess.
Statistics About Intersection Crashes 
For decades we have known that intersections are especially dangerous locations for drivers and pedestrians alike. The American Association of State Highway and Transportation Officials (AASHTO) reports that half of all accidents in urban areas and nearly one-third of those in rural areas occur in intersections. Left-turning vehicles comprise over one in five accidents, while vehicles crossing over make up nearly 13 percent, and another one to two percent of accidents are related to right-turning motorists.
Driver Errors Related to Intersection Crashes 
Driver distractions, drugs and alcohol, weather conditions, road hazards, and vehicle malfunctions all contribute to intersection collisions.  Some of the most common issues include:
A vehicle leaving the road (over 20 percent);
One vehicle is stopped and collided into (over 12 percent);
A driver crossing the dividing line (over 10 percent):
High speeds (about 5 percent).
Over 50 percent of intersection collisions occur at an intersection that had a traffic signal, while about one-third had stop signs. 20 percent had no traffic device at all.
Avoiding Errors in Intersections 
With driver error connected to a reported 96 percent of intersection collisions, it's worthwhile to note some safety behaviors that drivers can employ to enhance their own and others' safety:
Limit distractions and pay attention to the road;
Properly look out before proceeding through intersections;
Signal your intent to turn;
Give oncoming traffic plenty of time to proceed through the intersection before attempting to navigate a turn;
Yield to turning vehicles, pedestrians, & cyclists;
Treat a yellow light as though it's a red;
Avoid changing lanes in intersections;
Never speed up when approaching an intersection;
Be particularly cautious during inclement weather and at night;
Adhere to posted speed limits;
Pay attention to oncoming traffic, especially if it appears someone might turn;
Avoid rolling through stop signs;
Keep an eye out for pedestrians and cyclists;
In rural areas, watch for farm animals and wildlife;
Never remain focused on your GPS instead of the intersection.
When Intersections Become Accident Sites 
You may be the most careful, conscientious driver in the world, but if another driver is distracted, speeding, inebriated, or otherwise careless or reckless, you or a loved one could find yourselves victim of a serious, even fatal accident.  The caring and experienced La Plata & Waldorf personal injury attorneys at The Law Office of Hammad S. Matin, P.A. are prepared to help.  Situations like this require thorough investigation, as well adept legal maneuvering. A successful case could result in your receiving compensation to address medical bills, lost wages, and more. To discuss your case, schedule a confidential consultation today.
Source:
safety.fhwa.dot.gov/local_rural/training/fhwasa1108/fhwasa1108.pdf