Keeping a Vehicle in Shape is Important!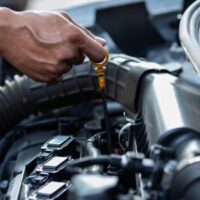 The majority of drivers take being out on the road pretty seriously.  They keep pretty close to the posted speed limits, stop at red lights, and try to drive within the parameters of the law more or less.  While it's true that drivers do make errors or get careless at times, many people can go a lifetime without ever causing an accident.  As careful as drivers are, sometimes they forget about one very basic aspect of being out on the road:  vehicle maintenance. And that can lead to very unsafe conditions for everyone!
Maintenance Issues 
The maintenance issues that can lead to accidents are, for the most part, fairly inexpensive.  Unfortunately, all too often these issues are overlooked until they become a real problem:
Fuel:  A hazard? You bet!  When a vehicle runs out of gas—or electricity– it can leave people stranded on the side of the road.  That can cause other drivers to focus on the stalled-out vehicle rather than on their own driving, which could lead to an accident.  So make sure you have the fuel you need to get where you're going!
Windshield Wipers:  When your windshield is grimy and bug splattered, it can make driving more difficult, particularly in wet weather. Get your wipers replaced before they become a hazard, which means the minute you notice streaks or squeaks.
Vehicle Fluids:  Keep on top of oil, transmission fluid, and wiper fluid in order to keep your car running efficiently and safely.
Tires: While spending money on new tires isn't very sexy, it can literally save lives.  In 2020 alone there were almost 700 fatalities directly related to tires that failed, which is a stunning way to prompt you to make sure tires are in good shape in terms of inflation, tread wear, and damage to the tire or rim.
Alignment and Balance:  Getting tires balanced and rotated regularly is key to ensuring a long life for the tires, shocks, and struts.
Brakes:  Failing brakes can lead to obvious problems. If they are thumping, shaking, squealing or making other noises it's time to make a visit to your local mechanic in order to avoid an accident.
Recalls:  Vehicles frequently have recalls to address various parts related to safety.  Pay attention and get required maintenance.
If You've Been Hurt in an Accident 
Despite taking great care of your own vehicle, maybe someone else didn't and it resulted in an accident that caused serious injuries to you.  There's a good possibility that the vehicle owner could be responsible for your medical bills and more if their negligence is the root cause of your injuries.  To discuss the prospects ahead, schedule a confidential consultation with the experienced La Plata & Waldorf personal injury attorneys at The Law Office of Hammad S. Matin, P.A. today.
Source:
nhtsa.gov/equipment/tires