La Plata & Waldorf Vehicle Theft Defense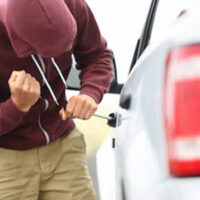 Across the state of Maryland, over 12,000 vehicles are stolen every year.  In Baltimore, the rate of theft is three times that of the rest of the state. If you have been accused of vehicle theft, keep mum and call your attorney right away.  You're looking at significant penalties if found guilty, but the right defense could make things much better for you.
What Constitutes Vehicle Theft?
Auto theft can be an ambiguous charge because it refers to taking a motor vehicle without the consent of the owner. The tricky part is the consent.  We're not talking about a signed consent form here—it could be the owner simply telling you it's ok to borrow the car, or even an action based on previous behavior.  Let's say you always borrow your sister's car to go to work on Saturdays.  Then you pick up an extra shift on Thursday, and you take off in her car.  Legally, it could be argued that it's ok because your actions were based on prior conduct.  Here's something else:  the "owner" of the vehicle doesn't necessarily have to be the name on the title of the vehicle.  So if your buddy gives you the ok to drive the car, which is actually owned by his parents, it's legal.
Most Frequently Stolen Vehicles 
A wide array of vehicles is stolen across the country, with Ford full-size trucks topping the list of most popular at nearly 40,000 annually.  Other frequently stolen vehicles in the United States include:
Honda Civics (33,220/year);
Chevy full-size trucks (32,583/year);
Honda Accord (30,745/year).
Penalties for Motor Vehicle Theft 
Motor vehicle theft is a felony in Maryland, and it carries a maximum five-year prison sentence along with up to $5,000 in fines (Maryland Code 7-105).  On top of that, the car must be returned to its owner in the same condition it was in when it was taken or you must pay the owner its full value. To be clear, theft is theft, so a teenager who steals a vehicle for a quick joy ride is every bit as culpable as someone who takes a car with the intent of stripping it down and selling it for parts. These are both felonies.  If there are previous theft convictions on your record, additional penalties could be added on as per the General Theft Statute.  The value of the vehicle stolen impacts the associated penalties:
Under $1,000: Up to 18 months imprisonment and a $500 fine, in addition to restoring the vehicle to its rightful owner;
$1,000 to < $10,000: Up to 10 years behind bars and $10,000 in fines, in addition to restoring the vehicle to its rightful owner;
$10,000 to $100,000: Up to 15 years imprisonment and $15,000 in fines, in addition to restoring the vehicle to its rightful owner;
Over $100,000: Up to 25 years in prison and $25,000 in fines, in addition to restoring the vehicle to its rightful owner.
Aggressive Representation 
Whether you've been accused of neglecting to return your rental car or stealing a new SUV off the lot, remember that you are innocent until proven guilty.  The experienced La Plata & Waldorf criminal attorneys at the Law Office of Hammad S. Matin, P.A. are determined to provide a robust defense for our clients.  Schedule a confidential consultation today.
Resources:
thebaynet.com/articles/1020/over-12000-cars-stolen-in-maryland-each-year.html
iii.org/fact-statistic/facts-statistics-auto-theft