Man Injured in Motorcycle Accident on I-70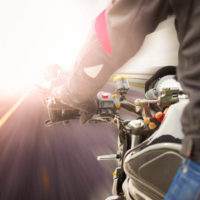 A motorcycle traveling west on I-70 struck the rear of a Dodge Grand Caravan, was ejected from the motorcycle, and taken to the hospital. The driver of the minivan wasn't injured. Maryland State Police are investigating the accident that took place near Hagerstown.
Are Motorcycle Accidents Personal Injury Accidents? 
One of the worst things about motorcycle accidents includes the injuries that can be involved. Some of the injuries can be severe and life altering, and even result in death. If you have been injured in a motorcycle accident, you may be entitled to file a personal injury lawsuit and receive compensation for your injuries and damages. An experienced Maryland personal injury attorney can review your case and determine if that is an option.
What to Do If You've Been in a Motorcycle Accident 
Motorcycles accidents happen quickly and unexpectedly and often result in injuries that are serious and long-term. The steps you take immediately after an accident can determine how much compensation you receive if you decide to file a personal injury lawsuit. Here are some of the steps that you can take if you've been in an accident:
Call the police and 911 for medical attention – If you or other parties in the accident have been injured, it is important to call 911 and receive emergency care. Even if you don't need an ambulance, you should call the police and report the accident so there is documentation of the accident.
Document everything that you can. If you are able to, get contact information for the other parties involved in the accident as well as witnesses to the accident. Take pictures of the scene, the accident, injuries, and anything else you think you might need to have documentation of in the future.
Seek medical attention with your family doctor as soon as possible. Even if you don't feel like you have been injured, some injuries take days or even weeks to rear their ugly heads. Schedule an examination with your doctor and have him document that you were in an accident.
Do not admit any fault in the accident to the other party, witnesses, police, or insurance adjuster even if you think you might have been partially at fault.

Who is At Fault for the Accident? 

In order to receive compensation for your motorcycle accident injuries, the driver at fault must have failed to follow the rules of the road and been negligent. Their negligence must have been the cause of your injuries. If you were the negligent party, you likely won't be able to file a lawsuit against the other driver or receive compensation for your damages.

If the other party is at fault, you could receive compensation for your medical expenses, lost wages, pain and suffering, and more.

Contact a Personal Injury Attorney 

One of the most important steps you can take if you've been injured in a motorcycle accident in Maryland is to contact an experienced motorcycle accident attorney. Hammad S. Matin has nearly 20 years of experience handling personal injury cases for people that have suffered injuries in motorcycle accidents. He will review your case and help you get the compensation that you are entitled to. Contact him today to schedule a consultation.

Resource:

localdvm.com/news/maryland/maryland-state-police-motorcyclist-suffers-injuries-after-collision-with-car/1303045183

301-259-3488