Pedestrian Hit and Killed by Motorist in Waldorf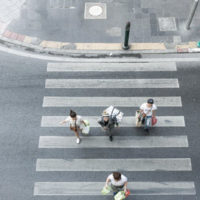 When a pedestrian is hit by a motorist, the consequences can be devastating. An example is the tragic accident that occurred on Route 228 east of Western Parkway in Waldorf. The driver of a Buick Regal was in the first left turn lane of Route 228 when a pedestrian was crossing the street. A collision occurred and the pedestrian lost his life at the scene, according to wusa9.com.
Deepest condolences go out to the friends and family of the pedestrian who lost his life. Losing a loved one is never easy, but the pain and trauma is only made worse when the loss is sudden and completely unexpected. 
Pedestrian Accidents Common in Maryland
Unfortunately, serious collisions between motorists and pedestrians are quite common in and around Waldorf. In fact, data indicates that close to 130 pedestrians lose their lives each and every year in Maryland. 
Catastrophic Injuries Common
Even if a pedestrian survives a collision with a motorist, they are likely to be left severely injured.  Common types of bodily injuries suffered by pedestrians including the following:
Traumatic brain injuries or head wounds;
Fractured bones;
Spinal cord injury;
Complete or partial paralysis;
Nerve damage;
Internal bleeding;
Low back pain;
Neck pain;
Torn ligaments and tendons
These injuries often require weeks, or even months, to treat. Some injuries are so severe that they can negatively impact you for the rest of your life. As a result, you could be looking at tens of thousands of dollars in medical bills, lost wages, and a diminution in your quality of life.
In Maryland, drivers are required to carry Personal Injury Protection (PIP) benefits. These are benefits you can access shortly after an accident without having to reach an assessment of fault. It is convenient to have access to these benefits, but they also have serious drawbacks. For example, PIP benefits are generally limited to $2,500. This means that the insurance company is only required to pay up to $2,500 in medical bills and lost wages through PIP. If your damages exceed $2,500, then you are left to figure out how to pursue compensation for your remaining damages. 
Take Legal Action
Many Maryland motorists find themselves in the situation described above. They have tens or hundreds of thousands of dollars in medical bills that far exceed their available PIP benefits. This is where taking legal action and contacting an experienced Waldorf pedestrian accident lawyer makes sense. A personal injury lawyer can file a claim on your behalf and seek financial restitution for the following harms and losses, including:
Incurred medical bills
Future medical bills
Prescription medication costs
Physical therapy
Lost wages due to time missed from work
Pain, suffering, mental anguish

Have Questions? Contact Our Waldorf Pedestrian Accident Law Firm Today

If you or a loved one was hit by a motorist while crossing the street, contact the Law Office of Hammad S. Matin, P.A. today. Our law firm is well-qualified to handle an array of personal injury cases, including pedestrian injury claims. Schedule a free consultation right away.

Resources:

wusa9.com/news/local/maryland/pedestrian-dies-after-being-hit-by-car-in-waldorf/479779320

mva.maryland.gov/vehicles/insurance/approved.htm

301-259-3488