Pennsylvania Woman Dead After Being Struck by a Car in North East, Maryland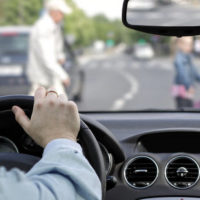 A Pennsylvania woman died after being hit by a car in North East, Maryland. The woman was struck by a 2015 Honda Odyssey that was eastbound on Route 40. The woman was wearing dark clothing and was crossing the roadway in an area that had poor lighting. She was transported to the hospital but died of her injuries. The accident is under investigation.
When we think of car accidents, we likely think of at least two vehicles crashing into each other. However, car accidents frequently involve pedestrians. Those accidents that are car vs. pedestrian often result in some of the most severe injuries.
Statistics from the Maryland State Highway Administration show that pedestrian deaths account for some 20 percent of fatalities in Maryland. Most of the accidents happen at night, and 75 percent of the victims are men. Many times, the pedestrian is partially at fault because they weren't crossing the road at a crosswalk or other designated crossing area.
Crosswalk Defined 
Maryland laws define a crosswalk as part of the roadway that has two characteristics:
It is within the connection of later lines of sidewalks in an area where two or more roads join or meet, measured from the curb, or in the absence of a curb, from the edge of the roadway.
Distinctly indicated as a pedestrian crossing by lines or other such markings.
Pedestrians Must Prove the Vehicle Driver Was Negligent 
Under Maryland laws, a pedestrian may be entitled to damages if they were injured in an accident where a vehicle struck them. However, they will have to prove that the driver wasn't driving in a reasonable manner. For example, the driver must have been texting, speeding, eating, or doing something else that took their focus away from the road. The driver of the vehicle would then be responsible for the injuries the pedestrian sustained, including lost wages, medical bills, and even pain and suffering.
Contributory Negligence as a Defense 
Many of us have likely heard the phrase, "the pedestrian has the right of way." While this may be a bit true, it isn't entirely true. Pedestrians, just like the drivers of motor vehicles, have responsibilities and rights. Unfortunately, many people don't know what those rights and responsibilities are. In Maryland, pedestrians must cross the road in designated places, and look for vehicular traffic before crossing the road. Failing to do either, could be considered contributory negligence on behalf of the pedestrian.
If You're a Pedestrian That's Been Injured You Need an Attorney 
Regardless of the situation surrounding your injuries, if you are a pedestrian that has been struck by a motor vehicle, you need to seek the advice of an experienced personal injury attorney. They will be able to review your case and determine if you may be entitled to damages due to your accident.
The attorneys at the Law Office of Hammad S. Matin have years of experience helping protect their clients' rights and ensure that they receive the compensation they are entitled to. Contact them today to schedule a consultation. Let them handle your case so you can focus on your recovery.
Resources:
advance.lexis.com/documentpage/?pdmfid=1000516&crid=b92254f3-a510-4a0d-ab68-b22d1cdcbdec&config=014EJAA2ZmE1OTU3OC0xMGRjLTRlNTctOTQ3Zi0wMDE2MWFhYzAwN2MKAFBvZENhdGFsb2e9wg3LFiffInanDd3V39aA&pddocfullpath=%2Fshared%2Fdocument%2Fstatutes-legislation%2Furn%3AcontentItem%3A5TC1-YRM0-004F-0415-00008-00&pddocid=urn%3AcontentItem%3A5TC1-YRM0-004F-0415-00008-00&pdcontentcomponentid=234188&pdteaserkey=sr8&pditab=allpods&ecomp=-J68kkk&earg=sr8&prid=b8c8bd85-dd66-4cd0-8d47-00f7cd2bfaef
wusa9.com/article/news/local/maryland/pedestrian-dies-after-being-hit-by-a-car-in-north-east-maryland/65-604291651