Police Recover Over Five Pounds of Marijuana During Traffic Stop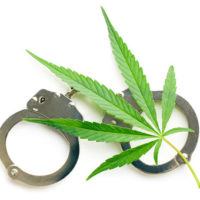 A traffic stop on the Fourth of July resulted in Wicomico County Sheriff's Deputies recovering over five pounds of marijuana. The driver was pulled over in Salisbury for having his driving privileges revoked. Observations during the routine stop prompted an officer to call for a K-9 team who quickly alerted police of the presence of drugs. A white trash bag was recovered containing marijuana. The driver and his passenger have been charged with possession of marijuana with intent to distribute.
Maryland Possession, Sale, and Distribution of Marijuana 
The sale, possession, and manufacturing of marijuana are all regulated by state and federal laws. Maryland classifies marijuana as a Schedule I substance. This means that it has a high potential for abuse and has no generally recognized medical value. Maryland does allow some medical marijuana use, however, in some limited circumstances. There are multiple crimes in Maryland that can be related to marijuana. They include the following:
Possession Less Than 10 Grams – Possession of less than 10 grams of marijuana is a civil infraction with a penalty of a fine not exceeding $100.00 for a first offense, and $250.00 for a second offense.  This is NOT a criminal penalty and in some cases the fine can be paid in advance so you do not have to appear in court.
Possession Greater Than 10 Grams– Simple possession of greater than 10 grams of marijuana is a misdemeanor and is punishable by a fine of up to $1,000.00 and 6 months in jail.
Sale and Cultivation – Distribution or possession with intent to distribute marijuana is a felony. The penalties vary based on the amount that is being grown or sold. The penalties also increase if the activity is taking place in a school zone. Cultivating or selling up to 50 pounds is a felony that can result in a punishment up to five years in prison and a fine up to $15,000. Cultivating or selling 50 pounds or more is punishable by a minimum of five years in prison and a fine up to $100,000. Selling or cultivating within 1,000 feet of a school zone or on a school bus can result in punishment up to 20 years in prison and a fine of up to $20,000.
Drug Paraphernalia – It is against the law in Maryland to use, sell, possess, or advertise drug paraphernalia. This includes items used to grow, harvest, process, sell, store, or use marijuana. Penalties vary based on how many times the offender has violated the law and if the sale was to a minor. A first offense may result in a fine up to $500. A second offense can result in up to two years in prison and a fine up to $2,000. Selling to a minor can result in penalties of up to eight years in prison and fines up to $15,000.
The Value of an Experienced Criminal Defense Attorney 
If you are facing criminal charges for a marijuana-related offense, it is imperative that you speak to an experienced criminal defense attorney. It is clear that the penalties for marijuana-related crimes can include life-altering, lengthy prison sentences and hefty fines. Hammad S. Matin has years of experience helping defend offenders in Maryland facing marijuana-related crimes. He will be able to review your case and develop the best possible defense strategy for your situation. Contact him today to schedule a consultation.
Resources:
delmarvanow.com/story/news/local/maryland/2018/07/05/sheriffs-office-5-pounds-marijuana-found-during-traffic-stop/760502002/
mgaleg.maryland.gov/webmga/frmStatutesText.aspx?article=gcr&section=5-601&ext=html&session=2017RS&tab=subject5