Premises Liability After A Physical Attack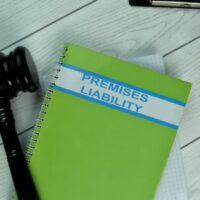 Imagine this hypothetical situation: on a pleasant evening after work, you and a few colleagues stop by a local tavern for a few drinks after work.  After a period of time, there is a verbal altercation between some of the patrons, and one of them seems to think you have something to do with the disagreement, despite the fact that you barely even know what is going on in that section of the bar.  You and your colleagues decide to call it a night, and head out to your cars.  As you are approaching your vehicle, the same patron from the earlier incident appears, quite drunk, quite angry. After some verbal sparring, he takes a swing at you and lands it, sending you to the ground. Fortunately, your buddies come to your defense, and before you know it the police and an ambulance are there.  The ER doctor confirms that you have a concussion, a broken nose, and a fractured elbow. You are in pain—and not just from your physical injuries. The thought of paying the bills associated with this assault is causing you some serious stress.  But the fact of the matter is, you may not be stuck with those bills at all.
Premises Liability 
No doubt, the aggressor who attacked you is the key party responsible for your injuries.  But what about the tavern where the incident occurred?  Does premises liability factor into the case?  Upon close examination, there may be a liability issue here.
The law requires a plaintiff to demonstrate that a breach of care led to the circumstances that allowed for an attack to occur.  A defendant must demonstrate that a plaintiff knew, or should have known, about a possible danger, and was negligent in protecting customers from that danger.  In this hypothetical case, we might ask the following questions:
Did the parking lot have adequate lighting?
Were adequate security personnel and apparatus in place, & did they suspect an issue with this particular patron?
Was the incident foreseeable to a reasonable person?
Has there been a history of this type of incident in this area?
Have law enforcement personnel been called to this location with regularity in the past?
Why are these important questions?  The bar is legally required to provide a safe environment for patrons. Were reasonable measures taken to protect customers that night, and in previous nights?  If the parking lot was dark and dangerous, it may be an indication of their negligence.  In fact, any shortcomings in these areas of question could be issues of negligence.  Finally, did the establishment do everything in its power to secure the premises? If not, you may be able to demonstrate that they have some liability for this incident.
Do You Have a Case? 
The experienced La Plata & Waldorf personal injury attorneys at The Law Office of Hammad S. Matin, P.A. understand the legal issues in a situation like this. The attack must be reported to management, and an investigation will necessarily ensue. A review of the events that night must be thoroughly examined and medical documents must be assembled as your aggressive attorney reconstructs what happened. Now, this is a hypothetical situation.  But things like this occur all the time, and victims don't know where to turn. Now you know: let the tenacious, knowledgeable personal injury lawyers at The Law Office of Hammad S. Matin, P.A. take it from here. We will fight to obtain the damages you deserve to cover medical bills, lost wages, and punitive damages to address the pain and suffering that are a result of the establishment's negligence. Schedule a confidential consultation today.