Prepare Now for Holiday Road Trips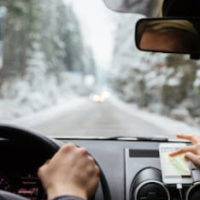 With the holidays quickly approaching, Maryland Transportation Authority officials are sending out reminders to drivers to stay alert and prepare ahead in order to avoid the nearly inevitable travel delays. Officials estimate that there will be at least a one percent increase in traffic volumes in comparison to peak travel dates last year. Officials also estimate that there will be 3.4 million travelers on Maryland's highways, tunnels, and bridges through Thanksgiving alone.
In an effort to make it safely to your destination, officials recommend that you try to travel during non peak hours and avoid the busiest travel days if possible. Additional Vehicle Recovery Units and law enforcement officials will be on patrol in an effort to more quickly respond to accidents and broken down vehicles.
Traveling Safely on Busy Roads During the Holidays 
The winter holiday season runs from the week of Thanksgiving through the New Year and puts more vehicles and people on the road than nearly any other time of year. This means that this is the most dangerous time of year to travel, not just because of the increase in traffic, but because inclement weather can also play a role.
The following safety tips can help make your holiday travels safer, but if you are in an accident, it is important that you contact an experienced Maryland car accident attorney as quickly as possible.
Make a plan. Know the route you are taking to your destination before you ever get on the roadway. Share your plans with someone at your destination as well.
Get your vehicle ready. Ensure that your car is ready for winter and all necessary maintenance work has been done. Fully charge your battery or fill your gas tank, and make sure your car is equipped with emergency gear such as a flashlight, jumper cables, snow brush, and ice scraper.
Leave early. Highways are busier during certain times of day and on certain peak days. Start early enough so that your trip can be as leisurely as possible.
Take breaks. You should stop and stretch every two or three hours. Taking a break will help you stay alert and manage stress. If possible, switch drivers during these breaks.
Stick to the main highways. As tempting as it may be to take a back road with less travel, main roads are better maintained, well-lit, and have more patrol in the event there is an accident.
Be prepared. Have numbers on hand who you can call if there is an emergency.
Be safe in the event of an emergency. If your call breaks down or gets stuck, don't panic. Simply move your vehicle as far away from traffic as you can, stay with your vehicle, and turn on emergency flashers. Ensure that the car's exhaust isn't blocked and wait for help to arrive.
Call an Experienced Maryland Attorney for Help 
Unfortunately, accidents happen even over the holidays no matter how prepared you are. If you or your loved one is injured in a car accident over the holidays and it was due to someone else's negligence, contact our office today to schedule a consultation. The Maryland attorneys at the Law Office of Hammad S. Matin, P.A. will work to ensure your rights are protected and you receive the compensation that you are entitled to.
Resources:
wboc.com/story/39488202/maryland-drivers-advised-to-avoid-peak-holiday-traffic-hours
exchange.aaa.com/safety/driving-advice/holiday-road-trip-travel-tips/#.W_BfvOhKhPY