Product Liability Lawsuits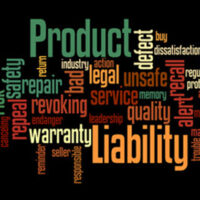 When people are harmed or killed because companies fail to put safe products into the marketplace, there is no way to erase the suffering related to the incidents.  Nonetheless, product liability lawsuits are one way victims of such catastrophes can recover remuneration to address their pain.  If you think these lawsuits are only for the greedy, you likely do not realize that consumers whose lives are unilaterally changed due to defective products have little recourse outside of the law.  An experienced personal injury attorney can assist victims as they seek justice against multi-million dollar corporations who are ultimately responsible for unthinkable harms.
Cases Prove to be Worthwhile 
All kinds of products fail consumers every day, but some actually cause serious harm or death. Just a handful of recent cases that have been settled to the benefit of victims include:
Gilman V. Johnson & Johnson: Based on evidence linking a woman's death due to ovarian cancer to the use of baby powder and Shower to Shower, the family of Jacqueline Fox was awarded $72 million in damages in a case against Johnson &* Johnson.
Monsanto: One of the most hated companies in the world due to the toxic chemicals they've released across the planet, Monsanto has forked over roughly $11 billion in thousands of lawsuits related to cancers caused by their Roundup weed killer.
Blitz gas cans: Blitz and Walmart agreed to create a $161 million fund in order to settle all cases involving defective gas cans that exploded and led to burn injuries, only after roughly 50 lawsuits were filed involving the Blitz gas cans.
Sturm, ruger & Co., Inc. v. Day: As Michael J. Day was unloading his Magnum single action revolver, he accidentally dropped it.  He attempted to grab for the gun, but it went off, launching a bullet into Day's leg. In awarding roughly $3 million in compensatory and punitive damages, the jury cited defects in the weapon and in manufacturing.
Hampton v. Pneumo Abex, Ford Motor Company: Auto mechanic Gary Hampton sued Ford based on an alleged exposure to asbestos in brake linings.  The parties reached a confidential settlement out of court. Meanwhile Pneumo Abex went to trial with the case, and wound up paying just short of $37 million, the jury finding that Pneumo Abex was negligent and strictly liable for the health impacts of the plaintiff.
Seeking Justice 
If you or a loved one has suffered serious harm or loss of life due to the callous or negligent actions of a corporation, you do have recourse.  The La Plata & Waldorf personal injury attorneys at The Law Office of Hammad S. Matin, P.A. have the patience, experience, and determination to fight big corporations on your behalf.  Contact us for a free, confidential consultation today.
Resource:
fortune.com/2016/02/24/johnson-cancer-death-court/
modernfarmer.com/2014/03/monsantos-good-bad-pr-problem/
stateimpact.npr.org/oklahoma/2012/07/09/why-the-largest-maker-of-portable-gas-cans-is-going-out-of-business/
law360.com/articles/572518/jury-says-pneumo-abex-must-pay-37m-to-asbestos-victim