Recompense For Scaffolding Accidents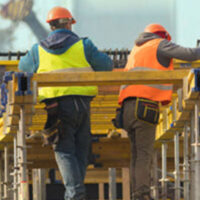 Buildings are going up everywhere in Maryland. Construction is a boom industry—but it's not without its hazards.  Sadly, far too many accidents involving scaffolding lead to serious injuries or death.  If you or a loved one is one of the unlucky victims of a scaffolding accident, a local experienced personal injury attorney may be able to assist.
Scaffolds Defined 
Workers often require elevated platforms—scaffolds– on which to perform specific tasks. There are three key types of scaffolds:
Supported scaffolds stand on a frame or with legs;
Suspended scaffolds hang from above using heavy duty cables;
Aerial and Scissor Lifts are heavy equipment that raise workers on a platform or in a bucket.
The  Importance of Scaffolding 
Over two million workers throughout the country, roughly two-thirds of all construction workers, are required to carry out their duties on or around scaffolding, making it crucial that such equipment is in top condition.  Those who design, erect, dismantle, and work on or around them are at risk when it is not.  According to the Bureau of Labor Statistics (BLS), thousands of accidents linked to scaffolding occur annually, resulting in as many as 60 fatalities and 4,000 injuries. As a result, employees and their families are dealt a huge toll physically and emotionally.  Furthermore, roughly a billion dollars in lost workdays is accrued.  What are the most common types of accidents related to scaffolding?  Not surprisingly, falls are at the top of the list of problems.  Other issues include scaffolding collapses, objects falling from the scaffold and injuring those below, and electrocution.
Evading Those Common Accidents 
While accidents will never be completely eliminated, when companies require employees to abide by basic safety rules, the number of issues can be dramatically reduced. Every work site should be staffed with well-trained employees (who were taught in a language they understand).  When it comes to scaffolding specifically, mitigating danger requires adopting clear safety protocols:
Requiring all workers to wear approved harnesses when working above ground;
Having adequate toe-boards, guardrails, and hole covers;
Making sure scaffolds are built according up to standard and are never overloaded;
Developing rules specific to handling work materials, debris, and tools on scaffolds so dropping materials is kept to a minimum;
Keeping a safe distance from power lines and turning off the power source when necessary.
When Accidents Occur 
If a serious injury or death has befallen you or a loved one as a result of a scaffolding accident, the financial outcomes may be crushing. Yes, Worker's Compensation will help, but it will cover only a fraction of previous earnings.  Nonetheless, your bills won't take a vacation.  In the event negligence was a key factor in the accident, it is possible that a personal injury lawsuit can help.  In addition to compensation for medical expenses, you may be eligible for remuneration to address lost wages, pain and suffering, and more. To discuss the possibilities, contact the experienced La Plata & Waldorf personal injury attorneys at the Law Office of Hammad S. Matin, P.A. today.
Resource:
osha.gov/SLTC/etools/scaffolding/index.html