Rideshare Accidents and Liability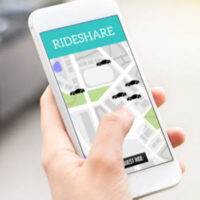 Ridesharing services, such as Uber and Lyft, are efficient ways to get around and are generally billed as the safe alternative after a night out. However, these drivers have accidents, too. What happens when a rideshare driver's accident causes you harm?
Accident Liability
Drivers for Uber and Lyft are independent contractors, meaning that they are not direct employees of the companies. In many situations, this means that the employee is solely responsible for the bulk of the expenses and liabilities, such as tax, insurance, and accident liability. However, in the state of Maryland, the companies still have direct liability for accidents caused by their drivers in certain instances.
Who you may hold liable, and thus expect payment from, depends on the status of the rideshare driver at the time of the accident.
Off-Duty: If the driver is not accepting ride requests or transporting passengers, he or she is off-duty and there is no liability on the part of the rideshare company. Instead, the driver's personal insurance will be responsible for needed coverage.
Accepting Passengers: If the driver does not have any passengers at the time of the accident, but is accepting ride requests, his or her personal insurance is still primarily responsible for covering accident expenses. Uber will offer some coverage for expenses above the driver's personal insurance limits. Lyft's policy states that coverage will be offered if the driver's personal insurance does not respond.
Transporting a Passenger: If the accident occurs while the driver is transporting passengers, then the company will offer $1 million in coverage for the driver and passengers.
Determining Liability & Filing Your Claim
The first and most important step in preparing your case is to determine the status of the rideshare driver. If you are a rideshare passenger and your driver caused the accident, this is quite simple. However, if you were hit by a rideshare driver, you will need to speak with the driver, and possibly the rideshare company, to determine his or her status. In either case, be certain to get the driver's full name, insurance information, and license plate number. This will make the claims process much simpler.
You must also work with your lawyer to determine liability. Maryland follows the contributory negligence rule, which means that you cannot be even partially at fault if you wish to collect compensation for your injuries from others involved. However, it is important to note that your failure to wear a seat belt, while not recommended, is not allowed to be considered contributory negligence. In order to help to prove negligence and, thus, liability, you can provide your attorney with:
Photographs of the accident scene and damages
Medical records, bills, and receipts
Your written account of the accident
Contact information for any potential witnesses
Contact an Attorney
If you've been involved in an accident as a result of the actions of an Uber or Lyft driver, contact the La Plata & Waldorf car accident attorneys at the Law Offices of Hammad S. Matin, P.A. right away. Due to Maryland's strict contributory negligence rule, rideshare companies will fight to show that you contributed, thus eliminating their financial responsibility. Our attorneys can help you to fight for the compensation that you need, even from these large companies.
Resource:
govt.westlaw.com/mdc/Document/N2ED13BB0E45A11E28A5ACBFFC72B0A62?viewType=FullText&originationContext=documenttoc&transitionType=CategoryPageItem&contextData=(sc.Default)
https://www.matinlaw.com/rear-end-accidents-and-liability-in-maryland/