Rollover Truck Accidents Some of the Most Deadly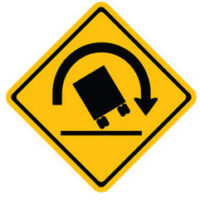 No one ever leaves their home expecting to be in a car accident, particularly a rollover accident with a truck. Rollover truck accidents lead to major injuries for all the parties involved and some may even result in wrongful death.
Rollover truck accidents are not only catastrophic for the small vehicles that fall prey but at the same time, for the truck drivers too. These accidents are not uncommon at all. According to statistics, some four percent of all accidents start with a large truck rollover incident. There were 181 accidents that resulted in fatalities and over 4,000 accidents that resulted in injuries because of rollover trucks.
With the whopping figure and so many lives at stake, it's important to know what causes the rollover truck accidents and how can they be prevented.
Speeding – Speeding is one of the common reasons for trucks to roll over accidents. More than half of the rollover accidents occur because of driving at a faster pace than allowed. This most likely happens at curves when the driver is not able to judge the right speed at which the truck needs to be navigated and they tend to turn too sharply which causes the truck to turn over. Always distance yourself from large trucks at such places to avoid getting caught.
Distractions – Accidents often happen due to negligence and irresponsibility. As a truck driver, you have to be the least distracted and focus on the road all the while with such a large vehicle in your hands. Rollover accidents, or simply accidents with large trucks, happen when drivers are involved in one or another activity such as texting, changing radio stations, or eating. When they are distracted and step on their brakes too sharply, the truck loses its balance and gets rolled over.
Carrying too much load – Overloaded trucks are a nightmare. When you see one, make sure you are far away from them. Overloaded trucks with unbalanced loads have a disturbed center of gravity which makes their trailer less controllable. This makes the truck more likely to roll over, especially at curves and turns.
Poorly maintained trucks – Another reason why rollover accidents have become so common is because of the lack of proper maintenance. They are rarely ever checked thoroughly before getting on and off-road. A truck driver should ensure that the rigs are duly maintained, and tires and brakes are on point before hitting the road. This can minimize the chances of trucks rolling over due to bursting tires or failed brakes.
Contact an Experienced Personal Injury Attorney Today
If you or your loved one has been fighting for their life and want to get justice after being involved in a rollover accident, consult the experienced La Plata & Waldorf personal injury attorneys at the Law Office of Hammad S. Matin, P.A. today. We will review your situation, explain to you the legal options you have, and help you get the compensation that you are entitled to. Contact us today to schedule a free consultation.
Resource:
fmcsa.dot.gov/sites/fmcsa.dot.gov/files/docs/safety/data-and-statistics/461861/ltcbf-2017-final-5-6-2019.pdf
https://www.matinlaw.com/an-expert-witness-can-make-or-break-your-case/