Shoplifting In Maryland Can Have Serious Consequences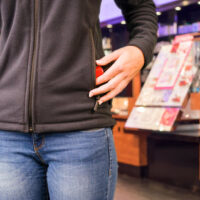 If you have been charged with theft, you could be looking at severe penalties, even if the crime involved a small item pinched from a local convenience store.  In Maryland, shoplifting is viewed with gravity.  If convicted, you could be facing stiff fines, in addition to time behind bars.  Now, more than ever, you need an experienced, local criminal defense attorney by your side.
Shoplifting Statistics 
Shoplifting has become an ever-more common crime in recent years.  In fact, some estimate that nearly ten percent of people have been guilty at one time or another of shoplifting, whether or not they've been caught in the act.  That adds up to roughly 30 million shoplifters wandering through stores at any given time in this country.  Some are one-time thieves; others, repeat offenders.  Here's what we know about this crime:
About 50,000 occurrences of shoplifting occur every hour of the day somewhere in America;
An average of 2 million shoplifters are arrested annually;
Retailers have to write off about $13 billion per annum due to "disappearing" merchandise, according to the National Association for Shoplifting Prevention (NASP);
Consumers fork over $32 billion each year to address expenses associated with shoplifting, such as security, insurance premiums, etc.;
Adults make up the lion's share of shoplifters, with three-fourths of those with sticky fingers are over age 17.
Understanding the Charges 
Shoplifting sounds like a fairly innocuous charge, but in fact, in legal terms, it is theft.  In Maryland, charges of theft vary depending on the value of stolen items. A misdemeanor theft charge could be slapped on individuals accused of stealing something valued at less than $100.  Although this is a low-level charge, the consequences are pretty gruesome:  up to $500 in fines and 90 days in jail (Md. Code, Crim. Law §§ 7-104).
If the value of stolen items reaches $1499, it is still a misdemeanor, but could land you behind bars for six months.  And if you have prior convictions, things get worse yet, with a conviction resulting in a possible $5,000 fine and five years in prison.
As a matter of law, felony convictions lead to imprisonment for at least a year. Felony theft is much more serious.  It involves items valued at $1,500 or more, and could result in five years in prison and a fine of $10,000.  As you might expect, penalties increase as the value of stolen items rises.
It is important to note that even if merchandise was not actually removed from the store, if a shopper's behavior is inconsistent with what is normally expected, a shopper may still be approached by security and charged with shoplifting. That means if you are seen putting items
under your shirt or into a backpack, you can expect to be detained, and potentially charged with theft.
Defending Shoplifting Charges 
At The Law Office of Hammad S. Matin, P.A., your La Plata & Waldorf criminal defense lawyer is schooled in the tools to provide a thorough and aggressive defense.  We will take out all the stops to provide you with the most positive results possible.  Contact us for a confidential consultation today.
Resource:
bluewatercredit.com/five-finger-discount-35-facts-shoplifting-america/