Shoplifting Laws in Maryland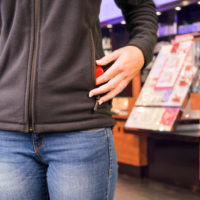 Shoplifting is often viewed as a minor crime with minimal consequences but this is often not the case. There are substantial penalties at stake when faced with a shoplifting charge. A skilled defense attorney can help establish a winning defense to your charges and get you the best outcome possible. It is necessary for an attorney to know the specific circumstances surrounding the client's charges. We will guide you through every step of the proceedings so you have a clear understanding what is happening.
Legal Definition of Shoplifting 
In Maryland, shoplifting is included under the general theft laws. Shoplifting involves the theft of merchandise from a business.
It is a crime to knowingly or willingly attain control over property without authorization if the person:
Has the intent to deprive the owner of the property; and
Uses, hides, or deserts the property in a manner that deprives or probably will deprive the owner of the property.
This definition means a person can be convicted of shoplifting for simply concealing merchandise in a store even if they never exit the building. The determining factor is whether the prosecutor can establish the person intentionally intends to deprive the owner of the property or that the actions of the person could lead to possible deprivation of the property from the owner.
Shoplifting laws also apply to buying stolen merchandise. A person will be held criminally liable if he:
Knew or likely believed that the items were stolen; and
Intends to deprive the owner or acts in a way that denies the property to the owner.

Shoplifting Penalties 
The penalties for shoplifting are based on the value of the property in question. If the property is:
Under $100, it is a misdemeanor punishable by no more than 90 days in prison and a maximum fine of $500.
Between $100 and $1,000, it is a misdemeanor that faces up to 18 months in prison and a fine up to $500.
Less than $1,000 (with two or more prior convictions), it is a misdemeanor punishable by a maximum of five years in prison and a fine up to $5,000.
Between $1,000 and $10,000, it is a felony with up to 10 years in prison and maximum fines of $10,000.
Between $10,000 and $100,000, it is a felony punishable by up to 15 years in prison and fines up to $15,000.
Over $100,000, it is a felony facing up to 25 years in prison and no more than $25,000 in fines.
If the defendant is convicted of theft, he may also be obligated to return the taken property or restore the value of the property to the owner.
Defenses to Shoplifting 
The following defenses are available to defendant's accused of shoplifting:
Mistake of fact (mistake of ownership)
Lack of intent
Coercion
Duress
Entrapment
Return of property
Intoxication

Contact the Law Office of Hammad S. Matin, P.A. 
We will explain in detail the Maryland shoplifting penalties at stake and how to best minimize those penalties. Seek an experienced La Plata and Waldorf criminal defense attorney to defend you. The prosecution will fight hard to prove their case. We use our vast knowledge and skill to advocate in a courtroom on your behalf. Attorney Hammad S. Matin has over 10 years' experience as both a prosecutor and defense attorney. His distinctive background fighting on both sides gives your case a strong advantage. An experienced litigator is invaluable to establishing a strong defense to win your case. Contact our office at 301-259-3488 to schedule your initial consultation.
Resource:
mgaleg.maryland.gov/webmga/frmStatutesText.aspx?article=gcr&section=7-104&ext=html&session=2017RS&tab=subject5