The Dangers of Riding a Bicycle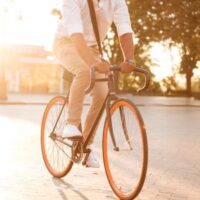 The mother of two was a bicycle commuter, pedaling along in the bike lane in the proper direction, wearing a helmet, paying attention.  Yet the news delivered to her family was devastating.  Sarah Joan Langenkamp was declared dead at the scene after a right-turning vehicle crashed into her in Bethesda one afternoon not long ago.
Bike Safety Rules 
Nearly 100 bicyclists were killed in traffic accidents in 2021 alone. Cyclists out on the road are more prevalent than ever as riders enjoy the sunshine to get some exercise, commute to school and work, or just have some fun. While there's no sure-fire way to make bicycling 100 percent safe, there are things all cyclists can do to improve the odds.
1-    Never venture out without a properly fitting helmet.
2-    Make sure your bike is the right size for you.
3-    Maintain your bike, and be sure everything is in working order.
4-    Wear clothing that will get you noticed: bright colors in daylight and reflective vests at night.
5-    Make sure pants and shoelaces are secure so they don't get caught in the gears.
6-    If you ride at night, have front and rear lights.
7-    Keep both hands on the handlebars except to signal a turn.
8-    Drive as far to the right of the road as reasonable, in the same direction as vehicular traffic.
9-    Obey traffic lights, signs, and other markings on the road.
10- Always assume drivers don't see you and proceed accordingly.
11- Avoid headphones so you can hear traffic.
12- Keep an eye out for pedestrians.
13- Pay particular attention near driveways where people could be turning in or backing out.
14- Never ride two abreast or impede traffic.
15- Signal properly to prepare others for your moves.
Drivers Have a Responsibility 
Safety is certainly not only a concern to the cyclist!  The National Highway Traffic & Safety Administration has guidance for drivers with regard to bicyclists.
1-    Yield to bicyclists as you would to any other motorist.
2-    Avoid turning in front of a cyclist.
3-    Look around for bikes; they're smaller and slower than cars and easily missed if you don't pay attention.
4-    Give cyclists plenty of room—a minimum of three feet when passing.
5-    Use particular caution at intersections, in driveways, and when making turns in either direction.
Personal Injury 
Despite best efforts, bicyclists are simply at greater risk of injury or death than motorized vehicles when a collision occurs. If you or a family member has suffered due to the negligence or recklessness of a driver who crashed into you while bicycling, the experienced LaPlata & Waldorf personal injury attorneys at The Law Office of Hammad S. Matin, P.A. can help. Schedule a confidential consultation today.
Source:
wtop.com/montgomery-county/2022/08/cyclist-killed-in-bethesda-crash/