The Hoverboard Danger: It's Not What You'd Expect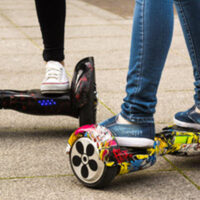 Hoverboards have arrived, and people of all ages (though mostly younger ones) have been discovering  the joy of balancing on the devices as they travel through space in a new and exciting way for a few years now.  Are people falling off and experiencing cuts, scrapes, sprains, and broken bones?  Without a doubt!  But those kinds of injuries are the least of the concerns when it comes to hoverboards.  More critical risks are associated with the fires that occur while the batteries charge and at other times with these devices.
Recent Cases 
The fact is that sometimes the chargers wind up overheating, causing the batteries to explode.  One family had a brand new hoverboard charging in their garage when they started to smell smoke in January 2022.   Fortunately, the fire was contained to the garage in that instance & there were no serious injuries.  In another situation, just miles away, fires started "shooting out like fireworks" from the battery of a hoverboard.  After a few seconds, the hoverboard itself exploded, sending pieces of battery across the room and igniting small fires as they landed.
A Serious Problem 
The Consumer Product Safety Commission (CPSC) reported that more 60 fires resulting from hoverboards have been reported, some destroying rooms and/or total homes. $2 million worth of damage later, hoverboards are still out there, still posing serious fire risks.
Circumstances When Fires Occur 
The fires don't occur simply when charging.  Witnesses to the events report that sometimes the hoverboards explode while they're being ridden, while sitting at rest, and, of course, while charging. Why do some of these devices blow up while others seem to function without incident?  No one really knows.  One brand is no more susceptible to fires than another.  The CPSC has recalled more than 500,000 of them based on the lithium batteries overheating. Hoverboard batteries are not unlike those connected to fires caused by laptop, phone, and electric bicycle batteries. Defective batteries experience punctures from sharp items inside of them. But concerns about cell phone & laptop batteries have diminished substantially thanks to more strict safety standards and regulation.  Unfortunately, because hoverboards are relatively new to the landscape, safety standards are basically non-existent, or voluntary, at best.  As efforts to ensure greater safety intensify, a real problem is revealed: reputable firms who test the entire product, not just specific components, are few and far between.  And because fires have been tied to the batteries, the cables, the plugs, and the cut-off switches, a failure in any of them could be disastrous.
In the Aftermath 
If you've purchased a hoverboard as a fun toy and discovered it's really a fire hazard that has led to serious harm, nothing can eliminate the anxiety and pain associated with the disaster.  But the La Plata & Waldorf personal injury attorneys at The Law Office of Hammad S. Matin, P.A. can address on your behalf the medical costs, as well as pain and suffering and more.  To schedule a confidential consultation with knowledgeable and heavy-hitting lawyers, contact us in our La Plata office today.
Resources:
cnet.com/tech/computing/why-are-hoverboards-exploding-and-catching-fire/
ksl.com/article/50190836/utah-family-issues-warning-after-hoverboard-explodes-inside-home