The Risk of Driving When Drowsy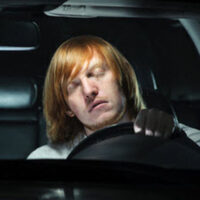 If you've ever started to nod off when behind the wheel of your vehicle, you're not alone.  The fact is, six in ten adults say they've driven when they were tired, and about a third of them admit to actually falling asleep behind the wheel.  If it makes you feel unsafe being out on the road with over 100 million drivers catnapping alongside you, you should know there's good reason for concern.  In the event a drowsy driver causes a collision that results in serious harm to you, an experienced La Plata & Waldorf personal injury attorney may be able to assist in collecting damages to address medical bills and more.
The Effects of Fatigue on Driving Ability 
Anyone who's driven when extremely tired will not be surprised to hear that fatigued driving results in driving impairment that is similar to alcohol impairment.  In fact, one study reveals that after 18 hours of sleeplessness, drivers made the same mistakes as someone with a Blood Alcohol Level of .05.  When surveyed about the effects of drowsy driving, respondents reported experiencing impatience, anxiety, and faster driving.  
What we Know 
The problem of driving while fatigued is certainly extensive.  According to reports, older drivers  are most likely to pull over for a short nap when feeling tired, whereas younger drivers believe they can push through for just a "few more miles."  They'll often open a window or turn up the music to try to keep themselves alert.   Statistics reported by the National Sleep Foundation indicate that accidents are widespread, many of which result in serious harm:
It is estimated that there are over 100,000 collisions every year across the country directly attributable to driver fatigue;
More than 70,000 injuries result from these accidents;
Roughly 2,000 people are killed in accidents related to driver fatigue;
The financial impact of these incidents is in the range of $12.5 billion annually;
Collisions related to fatigued driving most often occur between the hours of 4 a.m. and 6 a.m.
Who Drives While Drowsy? 
Plenty of drivers push the limits of fatigue. According to the CDC, the most frequent offenders include:
Shift workers;
Commercial drivers;
Drivers between the ages of 18-29;
Drivers suffering from sleep apnea or other sleep disorders.
When to Pull Over 
Though some may think strategies like singing aloud or blasting the AC help, the fact is that drivers should definitely pull over to rest if they experience any of the following:
Exhaustion that presents as extreme blinking or yawning;
Passing the desired exit without realizing it because of fatigue;
Weariness that leads to drifting across lanes or across rumble strips;
Fatigue that hampers recollection about the past few miles.
Serious Business 
Drowsy driving is a serious problem.  If you have been injured in an accident due to a fatigued driver's carelessness, you may be entitled to compensation to address your medical bills, property damage, lost wages, and more.  Contact the experienced team at The Law Office of Hammad S. Matin, P.A. for a confidential consultation today.