Were You Injured On A Stairway?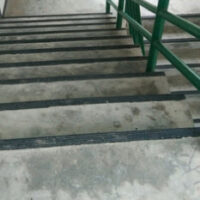 If you've fallen on a stairway, you're not alone.  Millions of Americans every year make the trip to an emergency room every year to get treatment for injuries sustained due to stairway falls.  If your fall was the result of negligent stairway maintenance, it may be worth your time to contact an experienced La Plata & Waldorf personal injury attorney.
Stairways 
All stairways are required to be at least one yard wide at any points above the allowed handrail level and below the allowed headroom height.  Handrail outcroppings cannot exceed 4 ½ inches on both sides of the stairs, allowing at least 31 ½ inches of clear width on any stairway that has just one handrail, and at least 27 inches of clear width on any stairway with handrails on both sides.  Stairs must be well lit. 
Riser and Tread Dimensions 
When risers and treads lack uniformity, it can lead to missteps and accidents.  Here in Maryland, the code requirements are clear:
Risers must measure 7 ¾ inches;
Tread depth must be at least 10 inches.
Handrails 
Whenever there are four or more stairs, there must be a handrail on at least one side that runs the entire length of the stairs, terminating with safety terminals or newel posts.  The rails should be between 34 and 38 inches high.
Maintenance 
Although stairways may, indeed, be built to regulation, if they are improperly maintained or illuminated, they can be extremely dangerous.  The truth is, poor maintenance is the leading cause of stairway accidents:
Non-slip surfaces should be used on all stairs and landings;
When tread become worn, loose, or altogether missing, they should be repaired or replaced;
Coverings such as tiles or carpeting must be securely fastened with no loose edges that could catch the edge of a shoe;
Railings must always be properly secured, clean and dry;
Objects and debris should not be allowed to accumulate on or near stairs and landings.
Maintaining Outdoor Stairs 
Outdoor stairs can be particularly perilous during inclement weather.  Ice and snow should be removed as quickly as possible, and signs should clearly warn pedestrians of potential hazards related to weather.  Posters, bulletin boards, and other distractions should be kept to a minimum.
Statute of Limitations for a Claim
Did you experience a serious injury because a stairway was improperly installed, maintained, or illuminated?  If so, you may be entitled to damages to address your injuries.  But beware:  there is a three-year statute of limitations (Maryland Courts & Judicial Proceedings Code section 5-101), meaning you cannot file a claim beyond that time frame. 
Contributory Negligence 
One more thing to be cognizant of is Maryland's contributory negligence law. Under this law, if you were to any degree responsible for your fall yourself, you cannot collect any compensation from a property owner in a civil suit.  However, there are a number of ways that a skilled attorney can fight this provision of the law.  To discuss the possibilities, contact the knowledgeable personal injury attorneys at The Law Office of Hammad S. Matin, P.A.  Schedule a confidential consultation today.
Resource:
ccohs.ca/oshanswers/safety_haz/stairs_fallprevention.html