What Should You Choose: Trial By Judge Or By Jury?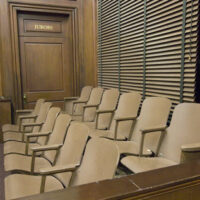 Are you facing criminal charges? If so, the decisions will mount as you and your legal team proceed through your criminal case.  One issue to which you may not have given much thought is whether you'd be better served by a bench trial or a jury trial.  What factors should you consider as you make this weighty decision? Depending on your circumstances, one option may be better than the other.
Choosing a Bench Trial 
While you may exercise your right to be tried before a jury of your peers, you could also choose what is commonly called a bench trial. Instead of relying on a jury verdict, you would allow the judge who is in charge of making rulings throughout the course of the trial to also be responsible for deciding your guilt or innocence. If the strength of your case lies in the facts, this could be a smart move. A judge will already hold a clear understanding of the legal standards embedded in the case, and will be able to scrutinize evidence in an unfettered manner.  Consequently, your trial may advance speedily, which could result in fewer costs to you.  On that note, a bench trial means you won't have to spend time– and consequently money—choosing a jury and preparing jury instructions. However, a bench trial means your future is put squarely in the province of a single individual. The judge will be in the know regarding everything that occurs during the trial, whereas a jury might be excused when controversial topics come up. Can you count on the judge to ignore evidence that has been ruled inadmissible? While it's true that judges are trained to ignore sentiment and anything that is not a part of the record, it must be acknowledged that judges are, after all, human.
When is a Jury Trial a Better Bet? 
In some situations, there are jurors whose emotional reactions to a case have more weight in their minds than do the actual facts of the case. While that can be problematic for individuals accused of exceptionally heinous crimes, it can be helpful for defendants who gain sympathy based on their circumstances or presentation. Jurors are simply laypersons who are serving as part of their civic duty.  Many are unfamiliar with legal terminology. On one hand, this could make them susceptible to misinterpretations when it comes to the cogency and weight of evidence or in their ability to adhere to a judge's instructions.  Alternatively, in some cases jurors feel more empathy toward a defendant than a judge might, and, with a skilled defense attorney's powers of persuasion, they may be more easily convinced to see things your way than a judge who looks at the facts in a stricter sense might. Jurors tend to rely more heavily on the essence of the case and how they feel about what they learn at trial than on the minutia.  They look at the panorama of the storyline and might be more susceptible to narratives that seem logical in general that are presented by your defense attorney, even if every single detail doesn't fit seamlessly into the explanation.
The Right Path for You 
Bench trial or jury trial?  At The Law Office of Hammad S. Matin, P.A., our experienced La Plata defense attorneys will analyze your case and guide you through the decision-making process every step of the way.  Our goal is to achieve the best possible outcomes for you.  Schedule a confidential consultation in our La Plata/Waldorf office today to discuss the specifics of your case.
Source:
law.cornell.edu/wex/inadmissible_evidence